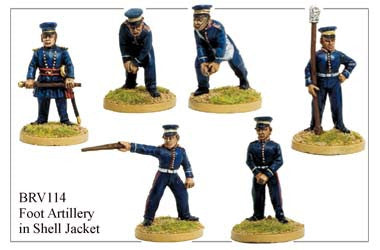 BRV114 British Artillery in Shell Jackets & Peaked Forage Caps
1stOpium War 1839-42:
Can be used for NativeFoot Artillery in Shell Jackets and Peaked forage caps.
Royal Artillery: Uniforms similar to Madras Artillery given below, except collar red edged with yellow lace top and bottom, and white overalls.
Madras Foot Artillery: Cap black with wide red band. Tunic dark blue with plain red cuffs & collar, yellow shoulder straps. Trousers dark blue with wide red stripe. Leather equipment white with brass fittings, shoes and scabbard black.
The officer can be used with British Infantry in the 1st Afghan War.
---
---
More from this collection