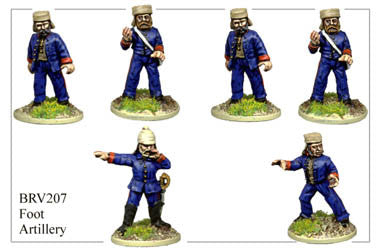 BRV207 Foot Artillery
BRITISH ARTILLERY in the Indian MutinyRoyal Artillery:
White or khaki covered / curtained forage caps. Tunics white / khaki, or blue with red facings. Trousers white, khaki or blue.
Royal Horse Artillery:
Forage caps wrapped in white turbans. Jacket blue with yellow frogging & sleeve knots. Collar and shoulder straps red, edged yellow. Trousers blue with red stripe. Leg guards for riders black.
Artillery pieces:
Woodwork was painted mid-grey, with black ironwork. East India Co. probably similar.
Bengal Field Battery:
5 x 9pdr. + 1 x 24pdr. howitzer. Bengal Horse Art. 5 x 6pdr. + 1 x 12pdr. howitzer. Heavy batteries could consist of 18pdr. guns with 8 inch howitzer and/or 5.5 inch or 8 inch mortars. Guns up to 24pdrs. were used in the field by both sides.
---
---
More from this collection