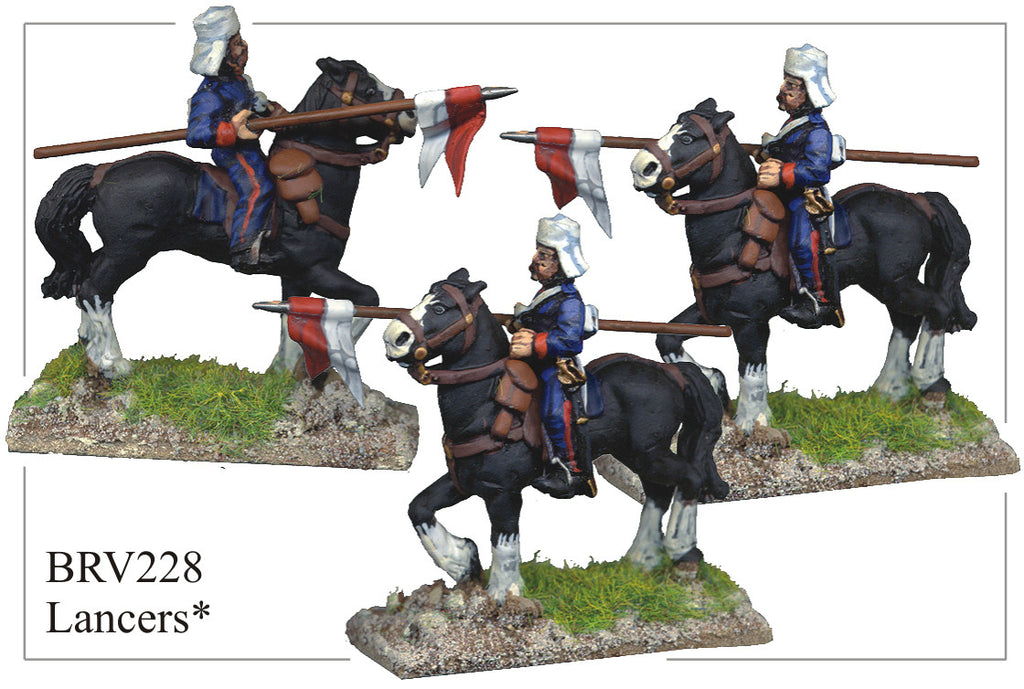 BRV228 Lancers
British Cavalryin the Indian Mutiny
The 2nd Queen's Dragoon Guards (Queen's Bays). Brass helmets, no plume. White covers soon adopted, officers with loose pugris. Tunics red, black facings. Trousers blue with yellow stripe, gold for officers.
The 6th Dragoon Guards (Carabiniers). Brass helmets or khaki sun helmets with pugris or covers and curtains. Blue tunics or stable jackets. Blue trousers with double white stripes, strapped black.
The 7th or Queen's Own Hussars. Officers forage caps with pugris, plain light coloured, single-breasted frocks. All ranks blue overalls with two white stripes and leather strapping. White belts, black pouches.
The 9th (Queen's) Royal Lancers. White forage cap (officers peaked) with cover & curtain. From September these were dyed khaki and white turbans added. Tunics white with red trim on shoulder straps, collars and pointed cuffs. Trousers white, not dyed. October onwards, they reverted to blue tunic with red collar, cuffs and piping. Yellow epaulettes. Trousers blue with yellow stripe. Lance pennons discarded after Delhi.
Hodson's Horse. Officers grey helmets with red pugris. Tunic khaki, with red, pointed cuffs. Black leather belts and scabbard slings. Breeches white or buff, high black boots. Red sash. Horse furniture black. Shabraques blue, edged yellow. Sowars had tunics mostly khaki. Bright red turbans & cummerbunds to mark them as "friendlies".
---
---
More from this collection